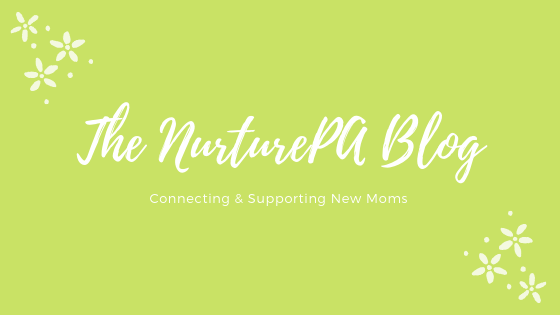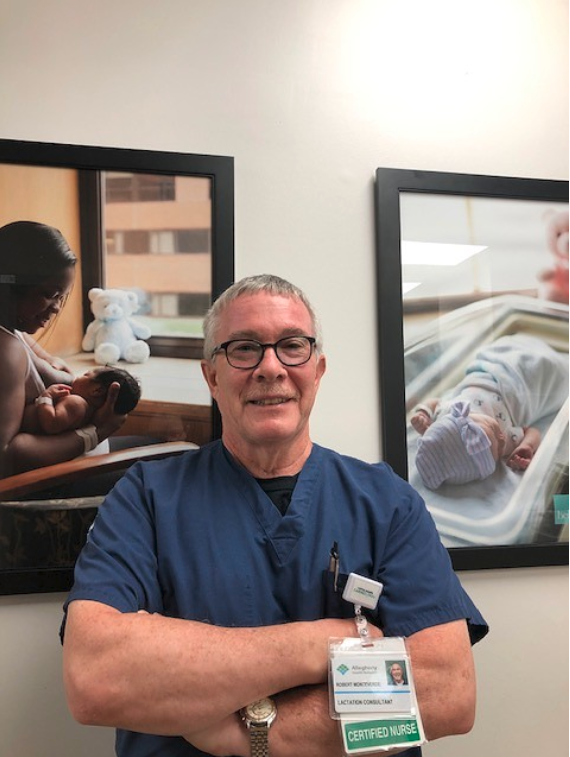 A Man in a Woman's World
Often, when we talk about breaking through the "glass ceiling" in a profession, we are usually referring to women breaking into traditionally male-dominated professions.  Bob Monteverde (IBCLC), a.k.a. Bob, the Boob Man, has broken through the female-dominated lactation consulting field in a big way.  
Mr. Monteverde is More Than a Novelty
Back in 2017, when WTAE featured Bob in this interview, he was the only male lactation consultant in Pittsburgh. WTAE's Interview with Bob, the Boob Man, Nov. 2017.  Today, Bob may not be the only male lactation consultant in Pittsburgh, and that is fine with him.  Bob is more concerned with providing the best care and lactation support he can offer and far less interested in his celebrity status.
In speaking with Mr. Monteverde, it's easy to see why new moms and dads at West Penn Hospital often request him by name or nickname.  Bob's calm and common sense approach both disarms and supports his patients. As an experienced NICU nurse and International Board Certified Lactation Consultant with decades of experience, this man knows breastfeeding!
Wise Words from a Veteran IBCLC
"Breastfeeding is natural, but it isn't instinctual.  Just like learning how to swim or ride a bike, learning with your baby how to breastfeed successfully takes practice, patience, and realistic expectations.  Breastfeeding is not pain-free. It should also not be traumatic or result in severe soreness that may cause moms new to nursing to give up on breastfeeding in the first few weeks." reports Mr. Monteverde.
Bob, the Boob Man, went on to explain that babies are not born knowing how to latch.  Moms also need to learn the best, most relaxed position for breastfeeding. Often, Bob finds new moms putting themselves in contorted positions while nursing. Another common mistake he notices is moms bringing breast to baby.  Bob advises moms, once in a comfortable and relaxed place,to bring baby to breast. Bob frequently observes new moms'apprehension and fear holding the new baby. He encourages all his new moms to hold their babies securely. Once securely positioned with baby brought to breast, achieving a good latch is the next critical step on the road to breastfeeding success.  If latching difficulties arise, it's important to correct those issues quickly before they become habitual.
The Key to Breastfeeding Success is Support
Mr. Monteverde's goal is for moms to leave the hospital confident in their ability to master breastfeeding.  Although many new moms may not have mothers and grandmothers nearby to guide them through breastfeeding as was the norm in earlier generations, help is available throughout the Western Pennsylvania area to assist moms experiencing difficulties.  At West Penn Hospital for example, breastfeeding mothers can attend the Nursing Mom Cafe – an informal group session facilitated by an International Board Certified Lactation Consultant (IBCLC) to answer questions, offer suggestions, and provide a supportive forum to discuss challenges and celebrate successes with other mothers.  For those mothers concerned that babe is not getting enough breastmilk, pre & post-feeding baby weight checks are available. For more information on the free Nursing Mom Cafe, contact the West Penn Lactation office at (412) 578-7030.
We are thrilled to know that many of the moms that we enroll in the Nurture Program ® from West Penn Hospital have already received a strong breastfeeding foundation from Bob and hope that our mentors can continue to provide support once moms are home.
A Sneak Peek at Black Breastfeeding Week
Join our next blog for Black Breastfeeding Week, August 25-31, when we speak with Renae Green, CLC Program Manager for Healthy Start Center for Urban Breastfeeding and Bob Monteverde protege.  Also joining the conversation will be Renae's colleague, Ngozi Tibbs, Certified Trainer and Educator through Lamaze International, IBCLC, and Co-Founder of the Pittsburgh Black Breastfeeding Circle, and Founder and Owner of Sankofa Childbirth Education and Lactation Services.