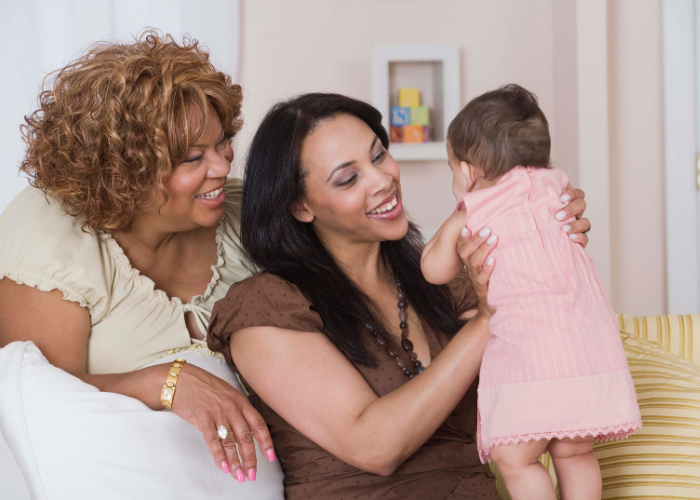 As we settle into a new year and a new decade, many of us are engaging in a period of reflection and goal setting for the upcoming year. While you may be thinking about ways to improve your physical health, read more books, spend more time with your family or practice better habits, you might also be thinking about ways to give back to the community – and what better place to start than with moms like you?
New moms face a myriad of struggles – but you already know that. It is both one of the most exciting and challenging times that a woman will face in her lifetime. Unfortunately, many American women do not receive adequate support as they enter this phase of their lives. When women struggle, our entire society suffers. Therefore, it's our responsibility to provide the support necessary for everyone to thrive. As mothers, we know first hand what it takes to do the job and what other moms need.
So, how can we provide more support to new moms this year?
#1: Be a friend
According to an article published on parents.com, "Up to 80 percent of women experience some form of the baby blues, and research shows that forging friendships with other new moms can make the transition into parenthood easier to handle." The early days of motherhood are so consuming, filled with both new and intense experiences. Having someone that can relate, say "yeah, I felt that way too" or just listen without judgement can provide a deep source of comfort.
#2: Help out
Look out for the new moms in your life, whether friends, family or neighbors, to make sure that they are getting adequate support. According to this Psychology Today article, "Support from friends and family help new mothers deal better with stress, and this has been proven to help mothers see their children in a more positive light. Mothers who have the help of people they trust feel more self-esteem, confidence as a parent, and struggle less to access information that helps them problem-solve for their bundle of joy." In this day and age, it's not uncommon to assume that someone has people around them to help, but that may not be the case. It is helpful to ask the new moms that we're connected with how we can support them.
#3: Contribute to improve mental health awareness
While awareness about maternal mental health has increased over the past decade, there is still considerable room for improvement. According to a survey of new moms conducted by Maven, women are still not getting the mental health support that they need. In this article published on Motherly, Kate Ryder, the founder and CEO of Maven, said "the mainstream narrative about maternal mental health is mainly around postpartum depression, but there are many other issues that women face." The article continued "Indeed, perinatal anxiety is a huge issue. Of the 700 moms Maven surveyed, only 23% reported suffering from only depression, while most (55%) felt symptoms of both depression and anxiety…They found 51% of the moms surveyed were experiencing symptoms of mood disorder, but 21% of those moms didn't tell their healthcare providers. "Our study finds that many women who would benefit from treatment are not receiving it, because they don't tell anyone that they're dealing with any challenges," Betty-Shannon Prevatt, the study's lead author says."
#4: Encourage Dads to take parental leave
A little bit of equality goes a long way. While there are numerous benefits to Dads taking parental leave, many American dads still do not take it. According to this New York Times article "where paternity leave is more common, which found that fathers are, in the long term, more likely to remain involved in parenting and to equitably divide household chores with their partners if they take time off after their children arrive. A recent study from Sweden found that mothers whose partners were offered flexible paid leave in the year after a child's birth were less likely to need antibiotics and anti-anxiety medication." When Moms are more supported by a partner that assumes equal responsibility in household and childcare duties, Moms and kids are less likely to suffer.
#5: Volunteer to Mentor New Moms
Join us in creating a support network for new moms as a NurturePA mentor! NurturePA mentors are parents who volunteer their time to serve as a support network and resource for the moms who are enrolled in the program. Our Mentors work anonymously, using only their first name when communicating with moms. In addition, mentors do not meet face to face with the moms they are supporting. All communication is done through texting, so you can do it in your bunny slippers, on your own time! As it turns out, volunteering makes the perfect new years resolution!
How do you support new moms in your community? What else needs to be done to ensure that new moms are provided with the support that they need? Share your comments below.